PRESS RELEASE: "Psycho!Therapist" Seeking Support On Kickstarter
I don't often see party games that utilize the practice of psychotherapy as its primary selling point, but that's the beauty of sites like Kickstarter: any idea has a chance to come to light with the right amount of support. The best part is that a lot of these creative ideas turn out to be very good ones! Speaking of support, "Psycho!Therapist" has about 22 days left in the campaign and needs your help to reach its funding goal. The gameplay seems reminiscent of "Apples to Apples", only here you'll be attempting to use a variety of tool cards to treat some really wacky clients.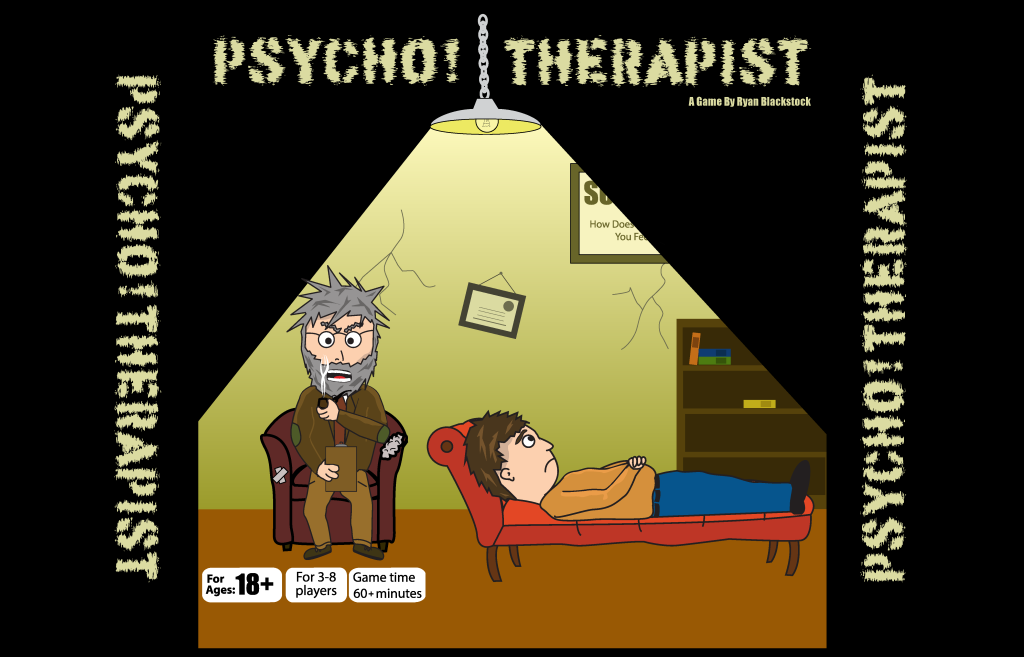 Game Creator Ryan Blackstock offered the following press release:
—
Michigan Psychologist launches irreverent game via Kickstarter
The game, titled "Psycho!Therapist"; is a parody of the unpredictable day-to-day duties of psychologists, counselors, and social workers.
ALLEN PARK, Michigan – January 16, 2015: Dr. Blackstock throws the ethics code out the window with his new game "Psycho!Therapist". Blackstock, a humanistic psychologist and college professor, developed the game as an exercise in creativity. In Psycho!Therapist, the players take on the roles of mental health professionals and must come up with ways to treat humorously bizarre problems. The game is jam packed with over 500 cards and multiple game modes.
When asked about the origins of Psycho!Therapist, Blackstock shares "I have always been a fan of improvisational comedy, and so I took the field I have worked in most of my life and designed a game around it. Some of it is based around real clinical cases, some are based on my own life experiences, and others are simply byproducts of my audacious imagination. It's meant to be irreverent and spontaneous, like something that would appear on Whose Line Is It Anyway?"
He adds "I'm using Kickstarter in the way it was originally intended, to really see if the public wants this game to be produced. This is the most viable way an individual can break into the game industry and I hope that people will back the project and enjoy the game".
Fans of board games and party games are currently enjoying a renaissance. Game sales are on the rise and platforms like Kickstarter make it possible for independent game designers to get their games into the public's hands. The campaign is live and runs until February 15, 2015.
https://www.kickstarter.com/projects/1940206921/psychotherapist-the-game-of-weird-clients-and-wtf
For more information, email psychotherapistgame@gmail.com
About Ryan Blackstock:
Ryan Blackstock teaches full time at a graduate school in the metropolitan Detroit area. He is a Humanistic Clinical Psychologist and is certified in addiction counseling. He opened his business, The Slychology Department LLC in 2014 and produced a set of cards (The Encounter Deck) that has been successfully used in group therapy settings.