PRESS RELEASE: "Jack the Ripper" Now Available For Purchase
"Jack the Ripper", a primer game similar to "Werewolf" and "Mafia" takes less than fifteen minutes to play, blew past its Kickstarter goal back in August of 2016.  Now the game is retailing and available for all you lovers of deception and cunning.  For example, you can find the core game on Amazon for about $20.00, though you can get the full set for $30.00.  If Amazon isn't you're thing, head on over to the game's official website and buy it through PayPal.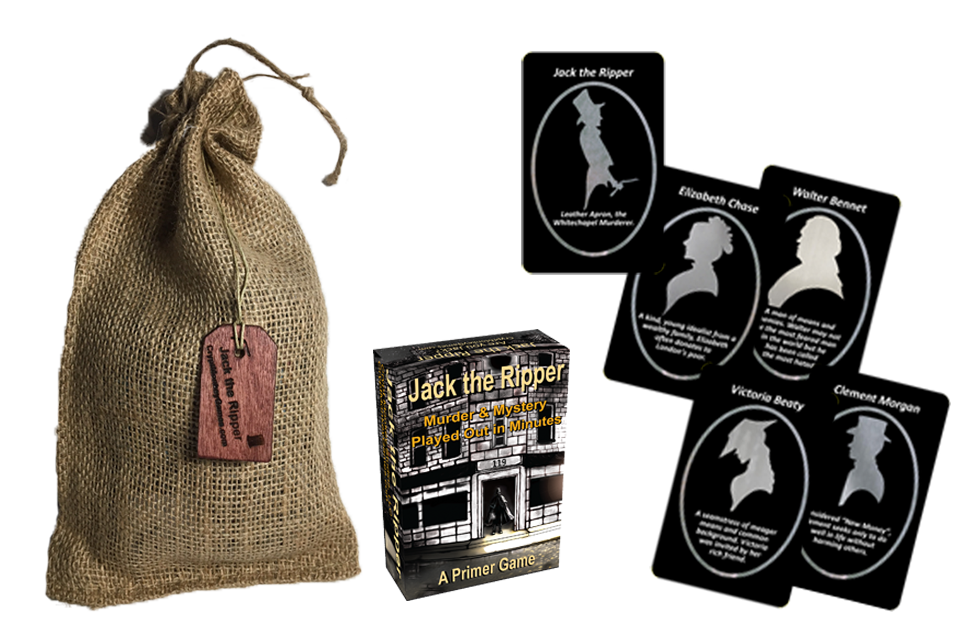 The folks at Crypt Monkey Studios, LLC offered the following press release:
—
Jack the Ripper
A Social Deduction Primer Game with 2-15 Minute Playtimes
February 28, 2017 – St. Louis, MO – Crypt Monkey Studios, LLC has announced the release of Jack the Ripper, an easy to learn, quick playing filler-primer game that puts players in the shoes of one of four scavenger hunters or the Whitechapel Murderer himself, Jack the Ripper.
The year is 1888 and the city of London is terrorized by a menace the likes of which the world has not seen before. In an effort to keep spirits high and not allow this murderer to rule the day, you and your friends defiantly go on with an annual scavenger hunt. The night is a success and as members of your team find the last item on your scavenger hunt list, it seems nothing can go wrong. That's just about the time you realize that someone in your group is the notorious Jack the Ripper. But which of you is it?
As you find that you have become trapped, you creep through the dark searching for a means to defend yourself. One by one, the items from your scavenger hunt reveal themselves to become the weapons of your salvation. But the question remains, who is friend and who is foe?
"Thanks so much CMS, we absolutely love the fast mechanics, the slick and creepy look and the devious play style of JtR, and I'm absolutely glad I backed!" – underAtack, Kickstarter Backer
Game night! It's the one night of the week we all look forward to. You pack up your dice, pencils, cards, and snacks and then head over to your game host's house ready and eager to storm the castle. Once you arrive, you and your friends stare at each other while you wait for that one Mr. or Mrs. Late that every gaming group has. Well you don't have to watch cat videos while you wait, Jack the Ripper was designed to fill this slot in your game night. Jack the Ripper is a simple, fast paced, social deduction game crafted to start game night off right. Learn more about Jack the Ripper at https://cryptmonkeygames.com/games/jacktheripper.
"Just got done playing this game, and if I never play it again, I still will have gotten twice my money's worth. It was fantastic." – Lex Pergerson, Kickstarter Backer
Crypt Monkey Studios, LLC is an independent tabletop game publisher that forges unique games embedded with dark and compelling stories. For more information, visit us at https://cryptmonkeygames.com.