PRESS RELEASE: "Duels For the Iron Staff" Seeking Support On Kickstarter
Spells spells spells…who doesn't like a game that involves the heavy use of spells?  "Duels For the Iron Staff", a game currently seeking your help on Kickstarter, features plenty of spellcasting for you would-be wizards and sorceresses out there.  Like Harry Potter and his band of cohorts (some could even call them "Hogwarts", *ba-dump ch!*), you'll primarily be focusing on getting the ingredients you'll need to cast some pretty powerful spells.  Your goal?  Eliminate the competition and become the next Head Wizard!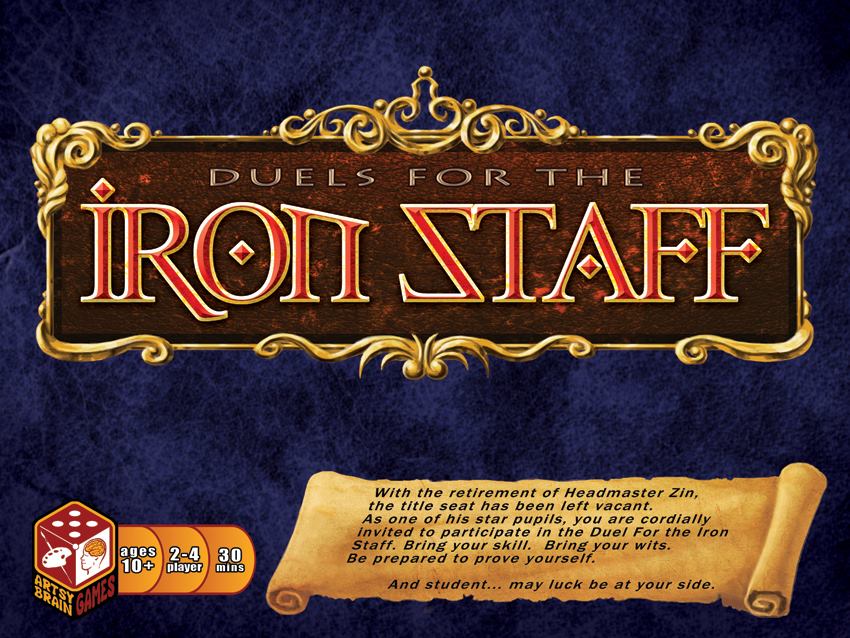 Game Designer DeQuan Watson offered the following press release:
—
Welcome to the arena and your chance to obtain the Iron Staff!
Duels For the Iron Staff is a project by DeQuan Watson and Galen Ihlenfeldt that launches via Kickstart on November 7th.
DeQuan has been in the industry since 1999 running a retail game store (The Game Closet), writing (TCGPlayer.com, Pojo.com, Scrye Magazine), playing, organizing, and even working on games (WWE Raw Deal).  Galen has spent his entire adult life involved in various aspects of the art community and has recently gotten his work into gaming projects (Novus).  Together they are the creative minds behind Duels For the Iron Staff.
Duels For the Iron Staff is an interesting card based game that combines various game elements including set collecting, hand management, and a little bit of "screw your neighbor" fun.  The game will be available via Kickstarter for $29 with free shipping to the US and $9-15 shipping to most of the world.  Also to backers trust for this project, DFtIS is offering a delivery guarantee.  Backers can get a full refund (minus KS fees) if it's not delivered by the promised date of April 2015.
The game has been tested by 90+ players through our travels to game stores, game tournaments,  and conventions.
What's the game about?
Upon reaching his 100th birthday Head Wizard Zin has decided to step down and pass the torch, or in this case, staff.  Being such an amazing instructor and father figure he has many great wizards ready to assume his position.  Not wanting to show favoritism among his top pupils, he's offered all of them a chance to face off against one another for the title and become the possessor of the Iron Staff.
In Iron Staff you will assume the role of a wizard in the Copper Claw Guild.  You will be attempting to show your magical prowess by gathering components to complete and cast spells to subdue your opponent.  This is done through collecting components from a communal pile and assembling them for spells.  Along the way, action cards are played to turn the action upside down.
Bring your skill.  Bring your wits.  But, most importantly, be prepared to prove yourself.
—
Number of players: 2-4
Time Required: 30 minutes
Ages: 10+
—
Twitter:  @thegamecloset
Facebook:  www.facebook.com/artsybrain
Kickstarter: https://www.kickstarter.com/projects/1265380988/duels-for-the-iron-staff?ref=nav_search
—