PRESS RELEASE: "Yokai Battle" Seeking Support On Kickstarter
Fancy yourself a seasoned "Pokémon" trainer?  Like the idea of summoning and controlling monsters with the purpose of doing battle with other monsters?  Then perhaps you should go check out "Yokai Battle", a strategic monster battler that's currently seeking your help on Kickstarter.  I'll be writing up a preview for the game in the upcoming week based on the PnP files I received, so stay tuned! In the meantime…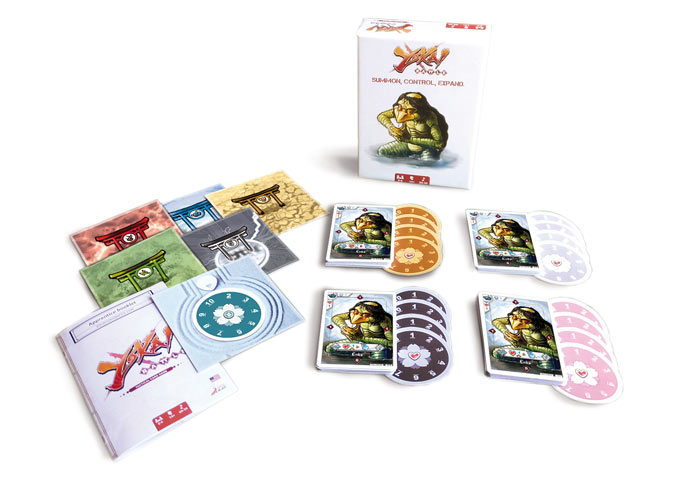 Arno Guenshérian from Board Game Publisher Moe Blaze offered the following information regarding "Yokai Battle":
—
Campaign starting date: 10/15/2015.
Moe Blaze launches its first board game edition on the theme of Japanese monsters, called " yokai ". This game allows players to explore both traditional Japanese beliefs as well as discover many figures who helped create Japanese history.
Yokai Battle originates from the Japanese occult monster realm. Yokai are creatures that have been made real by our fears or beliefs. In this game, you'll be one of the few selected men who decided to train and resist to them, battling in today's world.
Yokai Battle is a tactical game where 2– 4 players must conquer five terrain cards by summoning their monster onto them. The game features 22 monsters, each with different capabilities and a unique set of special abilities called "jutsu", plunging players into the popular beliefs of feudal Japan. These cards are accompanied by a KS exclusive 72 action cards expansion that interpret myths and historical culture of Japan. It is a beautifully illustrated game, which immerses players in a vivid and breathless experience."I love the universe of the game because the Yokai are very cool and there aren't a lot of games based on that," said Clement, an avid tabletop player. The game is designed for 2 – 4 players and each game takes approximately 15-30 minutes to play. Strategy is important, as certain yokai are more effective in different terrains. The terrain cards provide endless possibilities and combinations for play.
Moe Blaze is a board game publishing company based in France. Our goal is to deliver well-balanced board games, rich in mechanics and inspired by worldwide cultures and trends. We are currently represented by three partners, Arno Guenshérian , Leon Nguyen, and Stephan Twarog.
For more information, visit our Facebook or Kickstarter page:
https://www.facebook.com/moeblaze.editions
https://www.kickstarter.com/projects/mbz/yokai-battle
—