PRESS RELEASE: "What da Blank" Seeking Support On Kickstarter
Games like "Apples to Apples" and "Say Anything" are popular for a reason: they spark the imagination and allow folks to get as silly as they'd like.  "What da Blank" follows suit with this idea and tasks players with coming up with the best (or worst) answers to the "messed up" situations with which they are presented.  With over $1,000 CAD raised on Kickstarter already, "What da Blank" will need your help to get it across the finish line.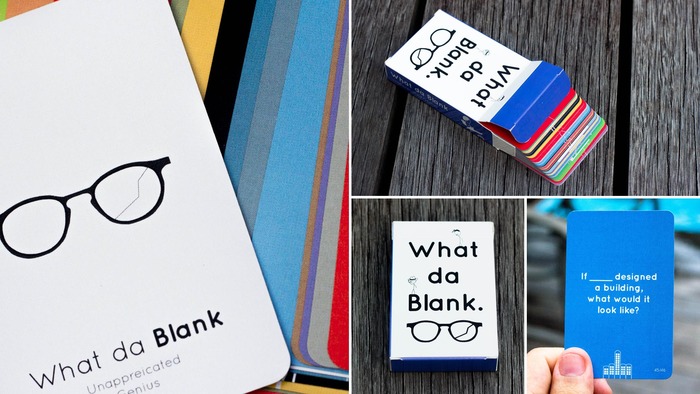 Hisham T. Bary from Ideal Factory Innovations and Games offered the following press release:
—
THERE IS NO NEXT LEVEL, JUST THE NEXT FUNNY JOKE.
What da Blank is the new kid on the block. It plays on your 3 basic emotions: Rage, happiness and embarrassment. All to create an experience that packs hours of creativity and ultimate fun in just a pack of 54 cards. The best part is, it is based entirely on the community. We are all born with beautiful and slightly twisted minds, and now you can let it loose just with a flick of your finger.
"If anyone overheard us playing, we'd have been arrested several times by now" – Leonard,- What da Blank, co-creator
The New Kid On The Block
As far as card games are concerned, What da Blank is one of the first card games ever launched on kickstarter by a Singaporean company. The Creators first came up with the concept during a project they were working on whilst in school, and the response was good enough that decided to try and share it with the world.
Happiness, Embarrassment and Rage
This game could make you roll off your balcony or drown yourself in the pool if you're not careful. Answering the simple questions on the cards can turn a normal get together into a day you will never forget.
"You'd be surprised at the things people remember…" – Hisham T. Bary – What da Blank, co-creator
Pack Of 54 cards
The game was designed to be small, light, durable and familiar. It's a pack of 54 cards, which are about the size of your standard poker deck, at about 2.25 inches wide by 3.5 inches tall. It could easily fit in your bag, your pocket, your shoe…
Always have it on your table, and you will never forget to bring it to a school or a party and have countless hours of fun with your friends.
The Best Part
The game was created for you to have fun with your friends. But why would you not try to make it even more fun? The creators want the community to share their (mostly drunk) ideas with them. Your ideas would be incorporated into the game and possibly, even generated into another deck, so theoretically, there could be an infinite number of possible questions!
"The one thing I love the most, is when people take something we made and do things we never imagined" – Jahaan, What da Blank, co-creator
—
You can learn more about and support "What da Blank" by visiting its Kickstarter page, here:
https://www.kickstarter.com/projects/1246465458/what-da-blank
—