PRESS RELEASE: "Wanted Earth" Seeking Support On Kickstarter
When you're playing a tabletop game with some sort of catastrophic theme, you're either on one side or the other.  For example, in "Pandemic", you're always fighting for humanity against four deadly diseases.  "Castle Panic" has you fighting against orcs and trolls every single time. "Wanted Earth" however lets players be either the humans or the invading aliens, which is a neat twist.  In short, it's a miniatures game that pits the human heroes against an invading alien force called the Goigons, though the Kickstarter page hints that more may be available via stretch goals.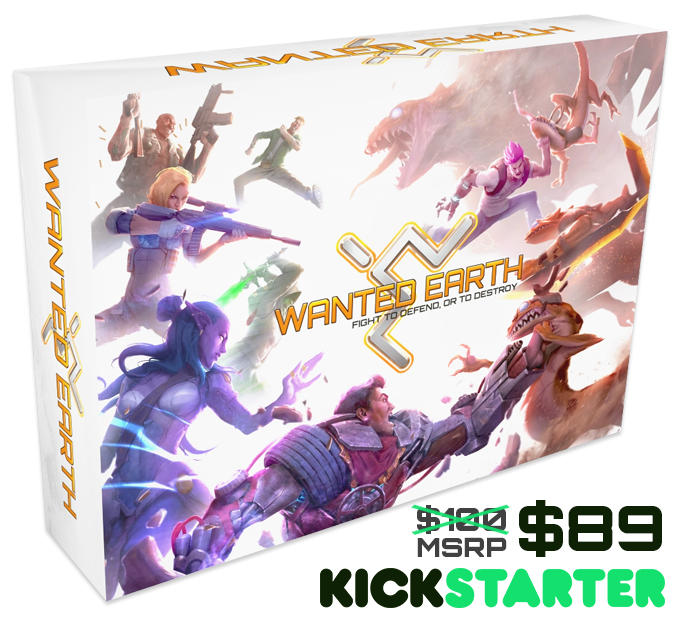 Eddie Zakoor from Shadow Squirrel Games offered the following:
"From the beginning Earth has remained unnoticed…until now. Various alien races desire Earth for their own reasons and will do anything necessary to dominate the planet and its inhabitants. For the first time in history; humans have a common enemy. Are you ready?
Wanted Earth is an epic miniatures strategy board game for 1-7 players that can be played in 60-120 minutes. Fight as the heroes defending the planet or try to conquer Earth as an invading alien race. 
Enjoy an action-packed gaming experience without all the confusing rules, millions of tiny pieces, or long and tedious setup. 
Every game will be a different experience. Discover unique abilities and play styles with each hero, hero combination, and alien factions that you will play.
As you immerse yourself in the Wanted Earth universe, you will discover out-of-this-world artwork, stunning miniatures, and powerful character abilities.
Will you be the one who defends Earth? Or will you be the one to destroy it?"
Kickstarter: https://www.kickstarter.com/projects/40674711/wanted-earth?ref=discovery
—