Mole Rats in Space
It seems we've been playing a lot of cooperative games lately, and that's a good thing.  It promotes teamwork and instills a sense of comradery instead of competition and sometimes hostility.  The cooperative game "Mole Rats in Space" for 2-4 players, despite its kid-themed feel, is much more difficult than we first expected. It's like a cross between "Chutes and Ladders" and "Forbidden Island", in my opinion. Kids will easily be able to grasp the mechanics, but I highly recommend a few variants to help lower the difficulty.  You can check my suggested variants out in my video play-through below.  Special thanks to Kelley DeVincentis from Southard Freeman Communications for providing me with a press copy so that I could cover it here and on my YouTube channel.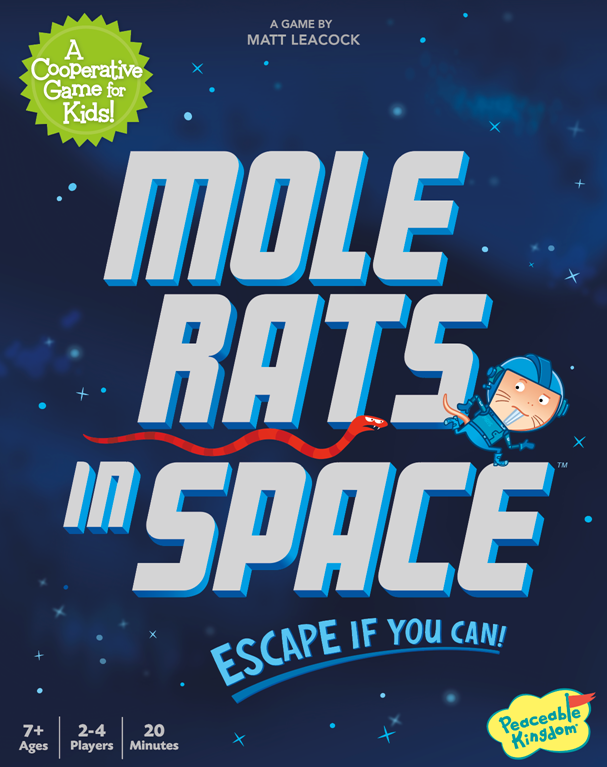 Since I chose to record a gameplay video and include my thoughts there, I'll simply opt to give you a short review here so that I'm not repeating myself.  As mentioned above, "Mole Rats in Space" is deceptively difficult and could use a few variant rules to make the game a bit more kid/casual friendly.  The components are simply "OK", they didn't stand out in any particular way.  The board did look nice though and the rules were very easy to grasp…the manual is only four pages or so.  The game includes a couple of challenge cards and a new lose condition should you find the default game too easy…we didn't.  Make no mistake, we loved playing this game just like we did "Pandemic" and "Forbidden Island".  I do recommend it to gamer families who enjoy a challenge but like I said, include a few variant rules to make your experience better if you deem it necessary.
It's on Amazon for $19.99, so go check it out using my game finder on the right sidebar to help support our site.  Or you can check it out on the official website.
Final Verdict: 8/10
—