PRESS RELEASE: "Mirrors" Seeking Support On Kickstarter
While some games are purely meant to entertain, others offer an artistic flair that will make you think about the developer's intentions.  That's exactly what's going on with "Mirrors", a card game currently seeking your help on Kickstarter.  It's an easy-to-play card game for two players that plays a lot like "rock-paper-scissors", but will also make you think and reflect about existence itself.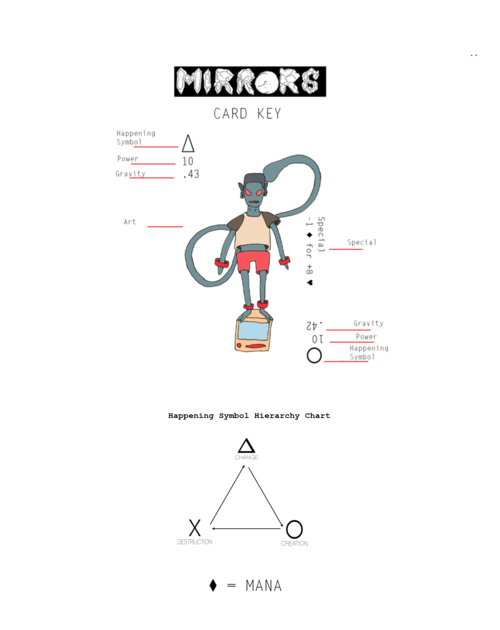 *More art and a free print and play version of Mirrors can be found here:
http://thelotusimagination.com/mirrors
—
Game creator Jeron Braxton offered the following press release:
"Mirrors is a fast paced 2 player game that plays much like rock-paper-scissors with more strategy. The main objective to Mirrors is to reduce the other players Ego points to zero returning them to a form of pure conscious energy.
MIRRORS is a fun and easy-to-master card game about the direct and infinite reflections found throughout existence. The inspiration for this project came to me from my childhood adoration for Pokémon cards , 90's anime etc; and the minimalistic design and approach pay homage to Hanafuda's beauty and simplistic brilliance. The art in MIRRORS was designed to create a surreal universe in the minds of the players, creating an experience that exercises their imaginations and opens their minds to the multitude of different ways to understand our universe. If you want to experience Mirrors please support the Kickstarter today to get a copy of Mirrors and even suggest a character design!
MIRRORS is about two conscious forms of energy called Black Lotus and White Lotus. They are formless, enlightened beings that flow across the Multiverse, spreading beauty and compassion. However, from time to time, they assume physical forms and incorporate themselves into a certain aspect universe's nature. In doing so, they develop a sense of self and an Ego separate from the Multiverse. However, in order for Black Lotus to exist as a self, White Lotus must cease to exist and be converted into Energy as a self and in order for White Lotus to exist as a self Black Lotus must cease to exist and be converted into energy. Creation in Black Lotus's Universe may be construed as Destruction to White Lotus's Universe. Ultimately they are one and every action initiated by Black Lotus is reciprocated by White Lotus. Black lotus is, White Lotus is not. White Lotus is, Black Lotus is not. There is no separation between them, they merely are. For a free print and play copy of Mirrors go here: http://thelotusimagination.com/mirrors."
—
You can learn more about and support "Mirrors" by visiting its Kickstarter page, here: