PRESS RELEASE: Connected Camps Launches "Summer of Minecraft" Camp
I haven't met a kid who didn't like "Minecraft".  Sure, some adults may find it too simplistic in terms of graphics and not like it for other various reasons, but most kids appreciate the freedom to design and construct almost anything they want.  I personally like the survival mode aspects and the sense of satisfaction I get when my house extension goes up or when I've found that rare patch of diamonds.  Starting June 27th, Connected Camps will be hosting a "Summer of Minecraft" camp for kids…how neat is that?!  It's really too bad that camps like that weren't around when I was young.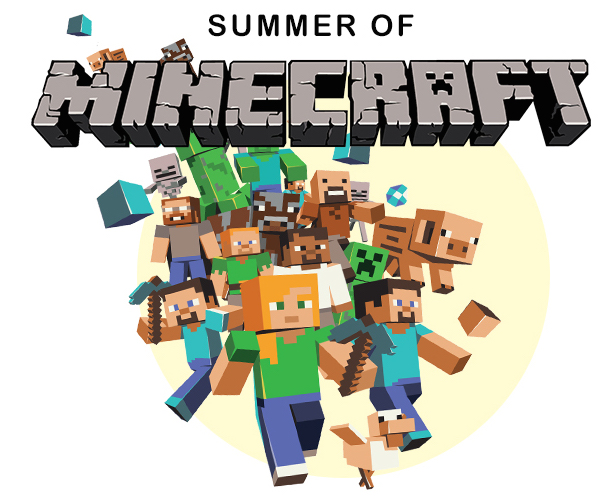 Makenna Taylor-Gonzalez, Marketing Coordinator for Connected Camps, offered the following press release:
—
Connected Camps was catalyzed by three girl geeks on a mission to make coding and digital arts accessible and fun for all kids. During their online summer Minecraft camp, kids can learn all about Minecraft, from the basics of play to coding and architecture, in-game engineering, and game design. There are camps for mixed groups, a variety of knowledge levels and ages (8-15), and even girls-only camps, to empower next-level STEM learning. The biggest plus? This is a virtual summer camp! The camps are all online and can be done from home in a safe and dedicated Minecraft server. Kids are able to play and learn in a secure, monitored environment where they can learn how to code, build circuits, and design games.
The summer of Minecraft camps are all moderated by knowledgeable counselors via servers, providing children with a safe online environment. Connected Camps helps to develop campers' Minecraft skills with week-long camps varying from in-game coding to game design. Not only is Minecraft fun, but kids will learn everything from problem solving and design to digital citizenship and collaboration and community organizing.
The Minecraft Summer Camps start June 27th and end August 5th, with 5, one-week options.
Kids have the option to choose between some awesome camp options, such as: ARCHITECTURE, GAME DESIGN, SURVIVAL CAMP, BEGINNING CODING, INTERMEDIATE CODING, ADVANCED CODING, ENGINEERING IN MINECRAFT, and CAMPS FOR GIRLS.
Each camp comes with:
10 hours of instruction with experienced counselors
Access to a custom built multiplayer world
Access to our library of Minecraft resources
A personalized certificate of achievement
Automatic membership in our free Minecraft Kid Club
Discounts for the purchase of multiple camps
Each one-week camp regularly costs $139, but right now they are offering early-bird specials for just $99 if you register before the end of the month. But on top of all that, Connected Camps is offering an EXTRA 25% OFF to Dad's Gaming Addiction Readers! Just use the code DADSGAMING25 at checkout!