PRESS RELEASE: "Bin'Fa: The Tao of War" Seeking Support On Kickstarter
I've never heard of "Bin'Fa: The Tao of War" before today, which is a real shame considering how fun it looks to play.  "Bin'Fa: The Tao of War" is an abstract strategy game for two to six players and features a customizable board layout.  Players will be controlling between one and three armies consisting of generals, units, and supply pawns.  While side dealing and alliances are possible, your main objective will be to surround your opponents' pieces and be the last army standing.  It all reminds me a little of "Go" with a touch of "Chess" mixed in for good measure.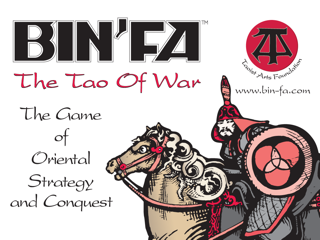 Erika Bird, the Director of Allsaid & Dunn, LLC, offered the following press release:
—
Inventor Announces Kickstarter Campaign for Game Over 40 Years in Development
Ken Hodkinson, the inventor of the abstract strategy board game Bin'Fa, the Tao of War, announced today that a fourth version of the classic game has gone into production after 40 years in development.
The new version has many changes from those familiar with its previous small run incarnations, including the 1977 original Bin'Fa, Avalon Hill's version, Hexagony, which was produced by Alan Moon, and the 2000 Seacoast Tube Edition.
Continually tinkering, altering and adding rules based on play and reviewer commentary, the latest changes include the addition of the General, Vortexes that allow you to traverse the board in one move, rule changes governing the gathering of supplies, and the separation of the original hexagon shaped game board into six separate game board sections which offer almost limitless possibilities for new terrain each game.
Kicking the release off will be a Kickstarter campaign this November 4, 2014 designed to raise awareness within the gaming community, funds for production costs and sample demos for game clubs at Toy and Hobby Store across the United States. In addition to some of the more regular types of rewards, Ken is offering the use of his San Diego house for the duration of Comic-Con next summer.
Bin'Fa The Tao of War will be officially launched at the March 2015 GAMA trade show in Las Vegas. The first Bin'Fa tournament will be held at the Origins Game Show in Columbus, OH July 3-7, 2015.
—
You can learn more about and support "Bin'Fa: The Tao of War" by visiting its Kickstarter page, here:
https://www.kickstarter.com/projects/2114842695/binfa-the-tao-of-war