PRESS RELEASE: "7 Seize" Seeking Support on Kickstarter
It's quite a feat when I can claim that a game mechanic crosses my path that I haven't seen very often.  Weighing your booty (treasure, not the backside) via the game's container itself is one of them.  "7 Seize", a pirate-themed family friendly game that's on Kickstarter right now (as of 8/27/2016), is looking for your support to reach a goal of $28,103 within 26 days. Current pledges have almost already reached the $5,000 mark with a total of 70+ backers.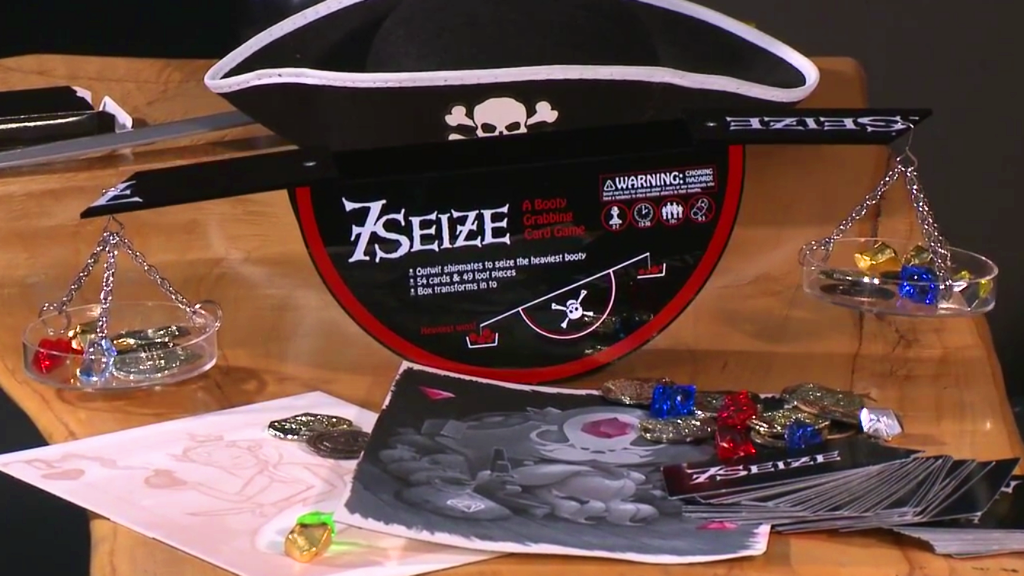 Jeep Barnett, Creator of "7 Seize", had this to say:
—
Rock the Boat at Your Next Game Night by Pirating This Booty Grabbing Game
There's nothing better than gathering your motley crew of friends around the card table to banter and roll some dice. But steering everyone toward a new game can leave you stranded in dangerous waters. Children and tipsy mates have a short attention span for rules, and even if the game doesn't stick your money is already sunk.
Point your looking glass toward 7 Seize ( http://7-Seize.com ), an innovative party game that's not just about pirates – you're encouraged to pirate the game itself! "Everyone already has a deck of playing cards," says its creator, Jeep Barnett. "Grab that plus a few bits and bobs from around the house and you're ready to play 7 Seize for free."
The rules can be taught in a snap and the goal has a unique hook: you'll have to grab the heaviest booty to win! "Adding up your score can be dull or even impossible after too much rum." Jeep jokes, "So in 7 Seize you'll literally weigh the loot you've collected." Throughout the game players clash wits to plunder game pieces, and savvy riggers can easily construct their own scale with the provided instructions. The scoring process itself becomes an engaging spectacle Jeep points out, "Kids love tossing booty on the scale one piece at a time to see when it tips in their favor."
Complete sets are also available through the 7 Seize crowd funding campaign ( http://tinyurl.com/7seize ). This special edition comes in a handy vessel that transforms into the balance scale and features beautiful hand painted cards. "We pulled out all the stops to produce a super high quality version," says Andrew Wilson, the game's artist.
While this is Andrew and Jeep's first independent tabletop production, their previous Cryptozic venture was successful with Portal: The Uncooperative Cake Acquisition Game ( http://cryptozoic.com/portal-uncooperative-cake-acquisition-game ). Their biggest lesson transitioning from Portal to 7 Seize is that simpler doesn't mean shallower. There's a surprising amount of depth moored in its simplicity. "The more you play as a group, the more challenging and deep the game can be," remarks GeekDad's review ( https://geekdad.com/2016/08/7-seize ). "The strategy evolves as players decide if they want to sacrifice their best cards to try to become Captain or to challenge for first pick of the booty."
Support 7 Seize now on Kickstarter to receive instant access to the DIY instructions and rules:
https://www.kickstarter.com/projects/218531318/7-seize-a-booty-grabbing-card-game