2015 DGA Awards
2015 has been a pretty good year for DGA.  My YouTube channel has reached 9,000+ subscribers and contains over 2,500 videos, a far cry from last year's numbers.  While being diligent with my content is part of the reason the numbers continue to grow, it wouldn't have been possible without the support of gamers like you.  It also helps that there are a TON of awesome games out there just waiting for someone to discover and play them.  Yes, it's that time of year again folks…the 2015 DGA Awards are upon us!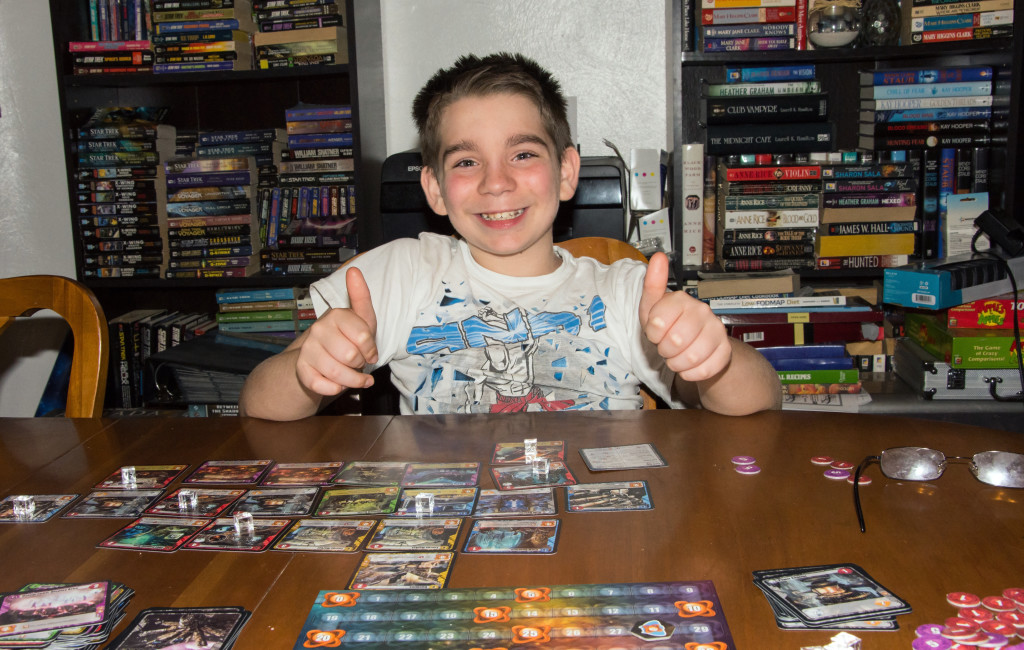 Like the previous years, I'll be listing my favorite games regardless of their release date.  It just wouldn't be fair to list the "Best Games of 2015" or the "Best Games of All Time" when I haven't played them all.  DGA just isn't popular enough for that yet and I receive maybe fifty to seventy-five board games every year, which doesn't put a dent in the total amount of games published in said year.  As such, I find those kinds of titles misleading despite their obvious SEO benefits.  All of the games listed below are games that I own.  It doesn't mean that they are the best…it means they are my favorite out of all of the games in my collection at this point in time.  It's important to remember that before leaving a comment like, "but you forgot about X".
For a list of the games I do own and have played, click on either the "Board Games" or "Video Games" tabs above.  I've covered many video games on my YouTube Channel that I haven't here, so go check that out too. It just became more convenient to release video game content via "let's plays" due to the sheer volume of press copies I get.  Each board game entry will have a link to the written article, which in turn contains Amazon and other links for buying the game for yourself. If an article doesn't have an Amazon link, use the Amazon search tool off to the right.  Each video game entry will have a link to one of the videos published to my YouTube channel (which usually has a link to its Steam page).  Hopefully the below will give you some ideas for your upcoming holiday shopping…no need to thank me, I'm awesome that way.
—
Top Ten Favorite Board Games:
10. Trambahn
8. Takenoko
7. Pandemic
2. Splendor
1. Star Wars: X-Wing Miniatures Game & Expansions
Honorable Mentions: Jaipur, Lanterns: The Harvest Festival, Lost Cities (Card Game), Power Grid, Sunrise City, Sushi Go!, The Builders: Middle Ages, The Great Heartland Hauling Company, Tokaido, Tsuro, Eight-Minute Empire, Machi Koro, Roll For It!, Airlines Europe, Love Letter: Batman, Star Wars: Armada, Dungeon Roll, Star Realms, City Tycoon, Letter Tycoon
—
Top Ten Favorite Video Games:
Note: Some of these games may still be under development as of the date of this posting.
10. Hearthlands
6. XCOM: Enemy Unknown / Within
5. SimCity: Societies & Destinations
4. Factorio
2. The Elder Scrolls V: Skyrim
Honorable Mentions: Grand Ages: Medieval, Planetbase, Concrete Jungle, Sheltered, Command & Conquer: Zero Hour, The Long Dark, FarSky, Bounty Train, RimWorld, Minecraft, Turmoil, ARK: Survival Evolved, Infested Planet, Terraria, Mini Metro, Creeper World 3, Prison Architect, Sins of a Solar Empire w/Star Trek Armada III Mod, The Spatials, Star Wars: Empire at War, The Walking Dead Season One, Roller Coaster Tycoon 3, Rebuild 3, Orcs Must Die 2, Far Cry 3, Kerbal Space Program, Company of Heroes 2, Star Wars Battlefront II, FTL: Faster Than Light
—